BASE Milano presents Un'idea di centro culturale (An idea of a cultural center): an open manifesto that tells the path towards a real inclusion and accessibility of cultural spaces.
The manifesto and the event are addressed to trainees to the works and cultural centers in Italy and Europe but also to all organizations and people, whether they are already involved in the discussion on these issues or curious and interested.
A long reflection linked to cultural accessibility and that involved BASE and decisive partners throughout 2023 with moments of active participation and learning, as well as direct event curation.
---
↘ DOWNLOAD THE MANIFESTO
---
WE WORKED WITH
Marina Cuollo, Chiara Bersani e Elia Covolan —  Al.Di.Qua. Artists
Fabio Fornasari — Artistic director, Museo Tolomeo dell'Istituto dei Ciechi "Francesco Cavazza"
Valeria La Corte —  Co-founder, Associazione Fedora
Adama Sanneh —  Co-founder & CEO, Moleskine Foundation
Gabe Nero — Diversity, representation and accessibility consultant, Fondazione Diversity Lab
Francesco Ferreri — Co-founder, Espressy
Gaja Ikeagwuana — Diversity Manager, Milano Mediterranea
Fabio Di Girolamo — Secretary General, Fondazione BPM e Licia Ciocca — Head of Inclusion, Diversity and Social, Banco BPM
Ass. Francesca Gisotti — Councillor Municipio 6, Comune di Milano
Ass. Gaia Romani —Councillor ai Servizi Civici e Generali e alla Partecipazione, Comune di Milano
With the coordination of researcher Zoe Romano
---
Program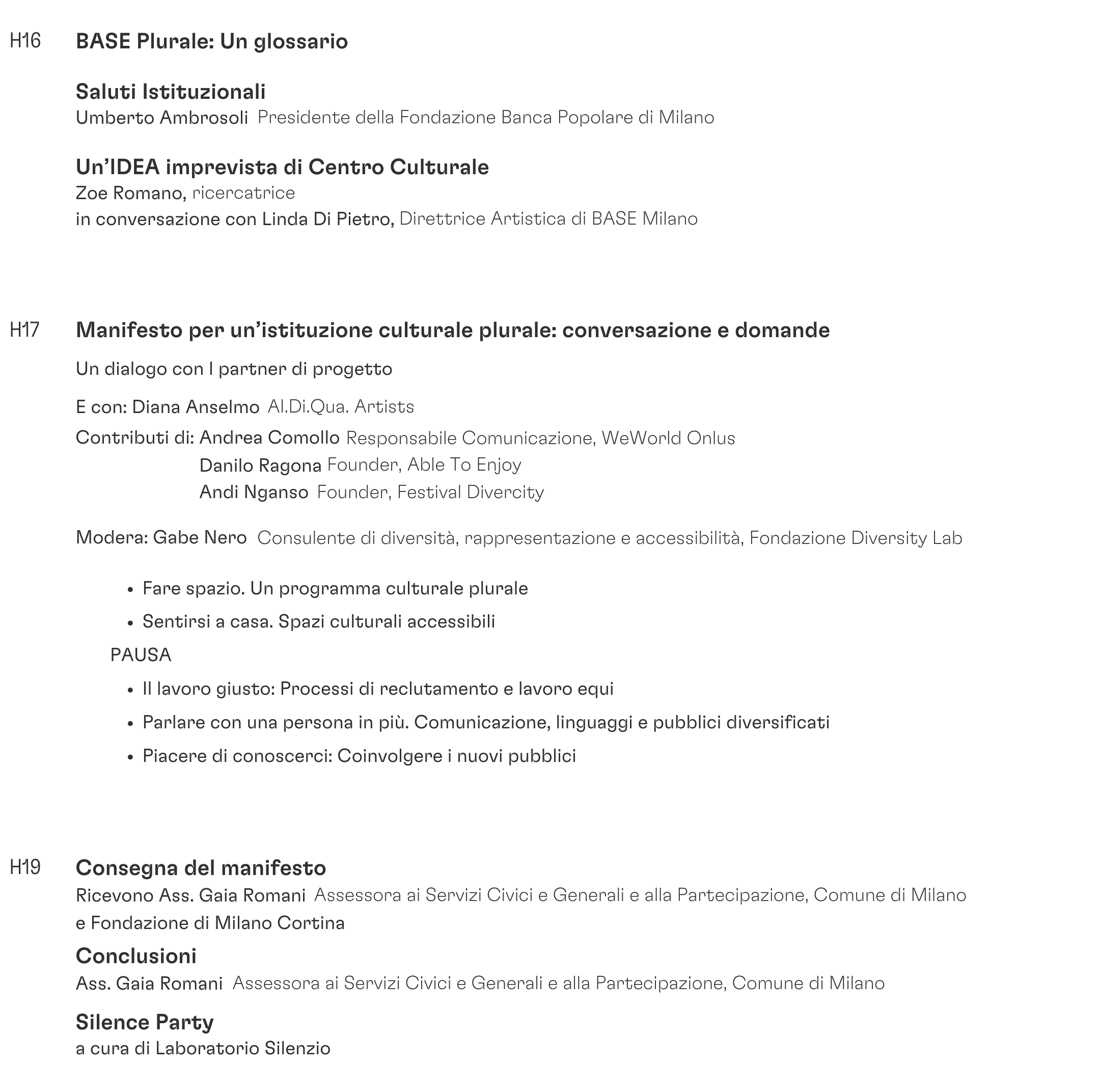 ---
* We are working to make this event accessible to as many people as possible.
→ If you are interested and you want to know more: base.milano.it/en/same-same-but-different/